Daughters of the Utah Pioneers
The Battle of Bear River
In January, 1863, Connor's California Volunteers attacked and massacred about 400 Shoshoni Indians in what is now called "The Bear River Massacre." Jane Sant makes reference to this battle. The Daughters of the Utah Pioneers have erected a memorial near the site where this massacre took place.
Pictures of the Daughters of the Utah Pioneers memorial to Pioneer Women and to the State Historical Marker Bear River Massacre are also available.
---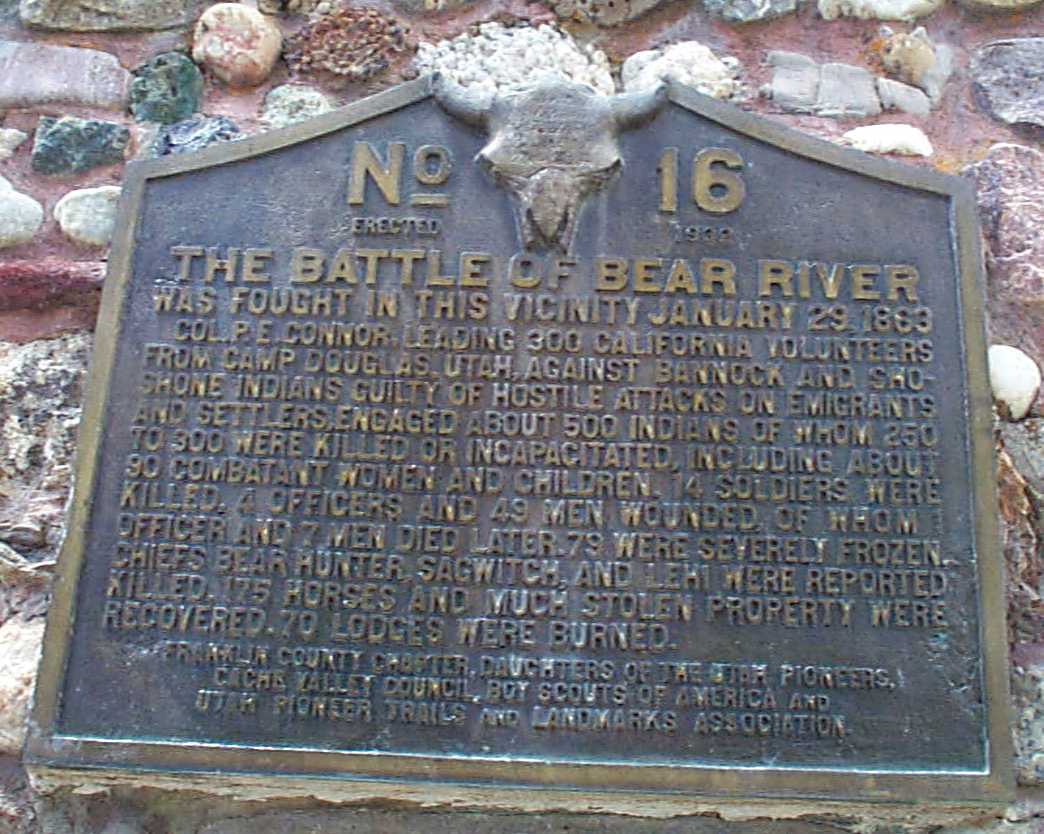 ---
Text of the Marker
No. 16
Erected 1932

The Battle of Bear River
was fought in this vicinity January 29, 1863
Col. P.E. Connor, leading 300 California volunteers from Camp Douglass, Utah, against Bannock and Shoshoni Indians guilty of hostile attacks on emigrants and settlers, engaged about 500 Indians of whom 250 to 300 were killed or incapacitated, including about 90 combatant women and children. 14 soldiers were killed. 4 officers and 49 men wounded, of whom 1 officer and 7 men died later. 79 were severely frozen. Chiefs Bear Hunter, Sagwitch, and Lehi, were reported killed. 175 horses and much stolen property were recovered. 70 lodges were burned.
Franklin County Chapter, Daughters of The Utah Pioneers
Cache Valley Council, Boy Scouts of America, and
Utah Pioneer Trails and Landmarks Association.
---

Becky S. Porter, 2493 S. Hulls Crossing, Preston, Idaho 83263

E-Mail: Roland K. Smith